Checklist LLC Receives NASMM Diamond Society Recognition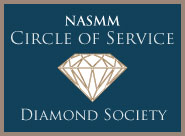 Checklist LLC has been elevated to the Diamond Society level of the National Association of Senior Move Manager's (NASMM) prestigious Circle of Service. The Diamond Society designation is bestowed on Senior Move Management companies that have been a NASMM member, in good standing, for a minimum of ten years, and have shown consistent dedication and support of the Association and the Senior Move Management profession.
"NASMM members receiving an invitation to the Diamond Society is a demonstration of a company achieving an exceptional level of experience and expertise," said Mary Kay Buysse, NASMM's Executive Director. "Checklist, LLC has been instrumental in the development of the Senior Move Management industry and has worked to increase professionalism, credibility and visibility of this emerging senior service."
Checklist, LLC joins 130 elite Senior Move Management companies from across the United States and Canada that have been inducted into NASMM's Diamond Society. The 2019 awards ceremony took place during the National Association of Senior Move Managers 2019 Annual Conference in San Diego, CA.
Checklist, LLC is located in Mahwah, NJ and serves clients in Bergen County, NJ and Rockland County, NY and has been a member of NASMM since 2009.